Emergency resources for faculty, instructors, facilitators and presenters
What to do when all eyes are on you.
While we hope it never happens, we need to be prepared to handle emergencies ranging from threatening behavior to medical emergencies, earthquakes to building fires. Students will look to faculty and instructors for direction, anticipating that you will know what to do during an emergency. Do you? Members of an audience and group participants will look to the facilitator to provide instructions. Can you?
Before an emergency — pre-plan
Key steps to prepare yourself and your students/audience:
Know all the building exits and exterior building assembly points.

Identify where the fire extinguishers are and know how to use them.

Familiarize yourself with the three response options for a threat of violence: 

Get Out, Hide, Fight!

Inform students/audience about basic evacuation procedures at the beginning of the semester.

Ensure that individuals with mobility issues have the information they need.

Verify your contact information in MyPack Portal to receive emergency text messages via WolfAlert.

Take personal belongings with you to class or to meetings (keys, wallet, purse, coat and cell phone).

Add Campus Security emergency and non-emergency numbers to your mobile phone contacts list.



During an emergency — take charge
Key things you need to know to assist your students/audience:
Follow appropriate procedures and the instructions of emergency coordinators (wearing safety vests or emergency personnel uniforms).

Assign student/participants to assist anyone in need of help.

Take your personal belongings with you, including your laptop (don't worry about the cords, mouse, etc.).

During an active threat consider your best option: Get Out, Hide, Fight!

Call 911 when safe.

If the power goes out, wait 10 minutes. If not restored or there are safety concerns, evacuate your group.

Fire alarm ringing? Immediately evacuate your group. See smoke or fire? Pull the fire alarm, call 911 and evacuate immediately to the building emergency assembly points.

Medical emergency? Call 911 (landline) and University Police (cell phone) at 919-515-3000.




Give name, number and location on campus. If trained, start first aid.
After an emergency — provide information and stay informed
Key things you need to do in response and after an event:
After evacuation, DO NOT re-enter the building until directed by emergency personnel.

Try to account for students/participants. Report any injured or missing individuals to Police. 

If you have information about the emergency, notify Fire or Police personnel at the scene. 

Try to let your department know your location and situation.



Emergency Resources
Key information and contact information:  
WolfAlert information: wolfalert.ncsu.edu
Interactive AED Map: https://gismaps.oit.ncsu.edu/emergencyresources/
University Police: go.ncsu.edu/police
Faculty Resources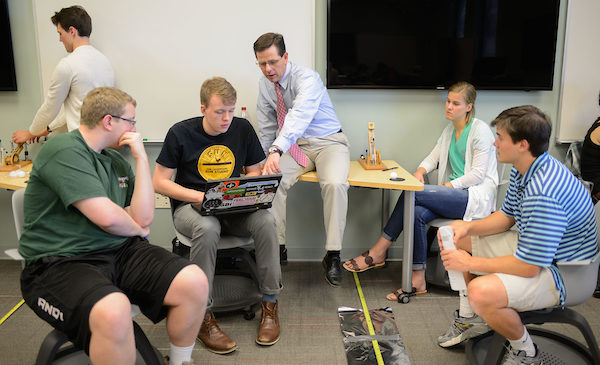 The following resources have been created to better prepare our faculty for emergencies that could take place in the classroom.
Syllabus Language – Faculty members are encouraged to include this brief information in their course syllabus.
Faculty Quick Guide to Emergencies – This 8.5″x11″ poster features general preparedness tips, as well about evacuations and sheltering during an emergency.
Faculty Emergency Information Sheet – This one page provides simple emergency information to review at the beginning of the semester.
Emergency Information Flipchart – This guide is posted in many classrooms and common areas across campus. If it is not posted in the room where you teach, and you would like to request that it be added, please contact our department.
Training and workshops are available for the campus community via REPORTER. Emergency Management and Mission Continuity is currently developing the next Emergency Preparedness Bootcamp, via other departments within Environmental Health and Public Safety.  Additional information will be posted here as it becomes available.